These are the American Hereditary Societies that I belong to...
1783 - Society of the Cincinnati
1826 - Military Society of the War of 1812
1881 - Sons of Union Veterans of the Civil War
1894 - Military Order of Foreign Wars of the United States
1894 - Military Order of the Loyal Legion of the United States
1911 - Order of Colonial Lords of Manors in America
1939 - Order of the Crown of Charlemagne in the United States
1958 - Order of Lafayette

1993 - Order of the First World War

1995 - Order of the Second World War
1996 - Noble Society of Celts
2010 - Descendants of Sherrifs & Constable of Colonial & Antebellum America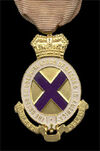 Ad blocker interference detected!
Wikia is a free-to-use site that makes money from advertising. We have a modified experience for viewers using ad blockers

Wikia is not accessible if you've made further modifications. Remove the custom ad blocker rule(s) and the page will load as expected.