Biography
Edit
Charles Francis Choate was born on 16 May 1828 in Salem, Essex County, Massachusetts, USA to Dr. George Choate (1796 - 1880) and Margaret Manning Hodges (1805 - 1887). He married on 7 Nov 1855 to Elizabeth Waterman Carlile (1834 - ?), daughter of Edward Carlile and Hannah Thompson. He graduated from Harvard with the class of 1849, and from the Harvard Law School in 1852.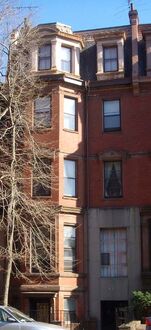 References
Edit
Ad blocker interference detected!
Wikia is a free-to-use site that makes money from advertising. We have a modified experience for viewers using ad blockers

Wikia is not accessible if you've made further modifications. Remove the custom ad blocker rule(s) and the page will load as expected.